Thanksgiving is right around the corner.  I'm sure, if you're half of the fall/winter-obsessed person I am, you've had more pumpkin and cinnamon consumption than any normal person should in a lifetime.  Now it's time for things to get serious.  The wife and I are now grown up (this year I turned 30) and I figured this year was time to develop our own Crowe family holiday dinner, so I started with what is most important to me: the dressing.  I have to preface this recipe with the distinction between stuffing and dressing. I know for some of you this is rehashing something you already know, but bear with me. Dressing and stuffing are essentially the same thing; the difference is in how it is cooked. With stuffing, you stuff it in the turkey, and dressing is cooked by itself.  Easy enough, right?  I thought so too.  So, if you prefer stuffing, take my recipe, and put it in the bird; if not, this couldn't be easier.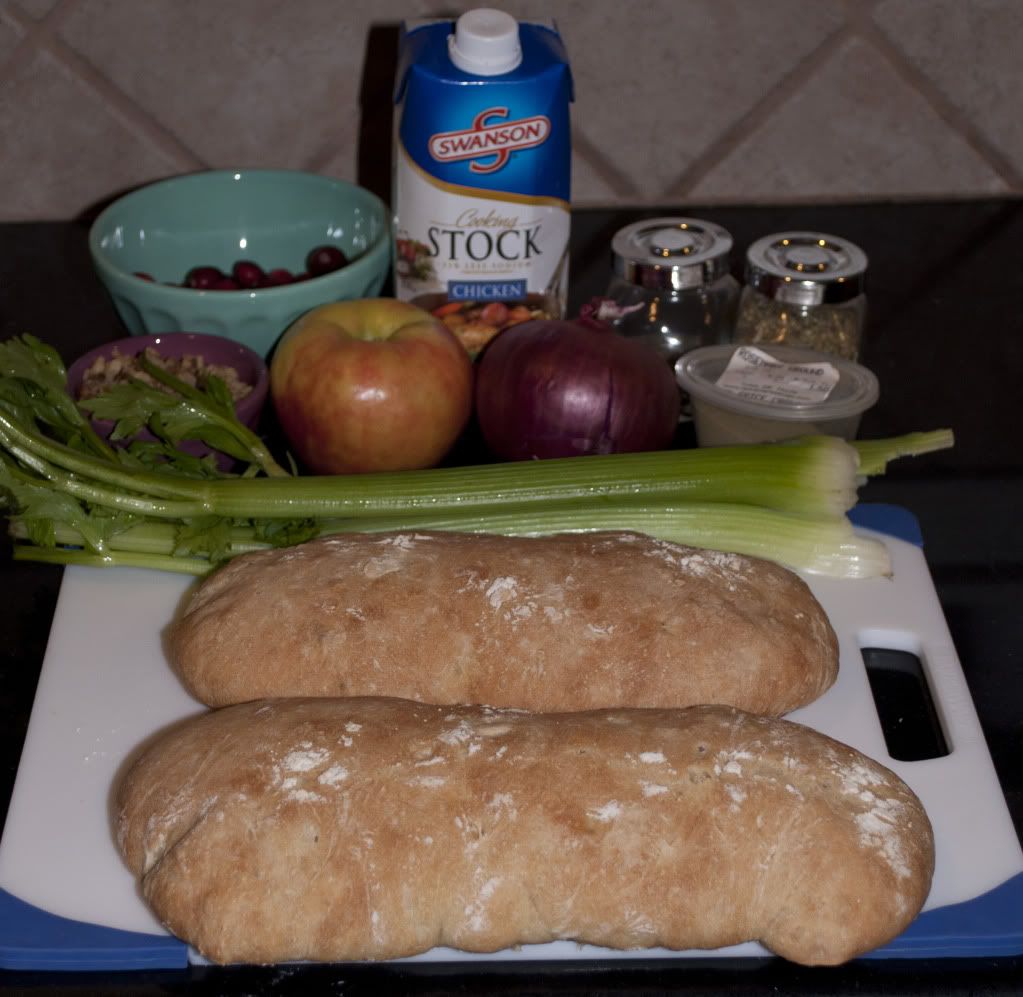 Ingredients
2 loaves of dense, hearty bread
1 onion (I used a red onion for the color variety, but a sweet onion will work well)
3 ribs of celery
6 tbs unsalted butter
1 c chicken stock
1 c fresh cranberries
1 sweet apple (my preference is pink lady, but they aren't in season here anymore, so I went with a honeycrisp)
½ c walnuts
1 ½ tsp dried sage (rubbed between your fingers)
1 tsp dried thyme
1 tsp oregano
2 tsp rosemary
Extra spices sage, thyme, oregano, and rosemary to taste for croutons
For starters, you're going to need a good bread.  If you're going to use wonder bread, just go ahead and buy stovetop, but if you're serious about your holiday eats, get a nice artisanal bread.  For the truly adventurous cooks, check out my recipe for ciabatta bread on my blog.
Otherwise, head to your local supermarket and buy some ciabatta, a sourdough, or any kind of hearty bread you like. Day-old or stale (not moldy) bread works well, but if not, you're going to need to make some croutons to start with.
Cut your bread into approximately 1-inch by 1-inch squares.  Place them on an oven-safe, flat surface like a non-stick cookie sheet.  Spray the squares lightly with olive oil.  If you have an olive oil spritzer, this will work perfectly, or you can go with the Pam olive oil spray.  Add a little of your spices to the bread.  Place those in a 350° oven for 15-20 minutes, until they are lightly browned. Sidebar: this is a great way to make fresh croutons to fancy up your salads and add serious flavor.
While those are cooking, dice your celery, onion, and apple.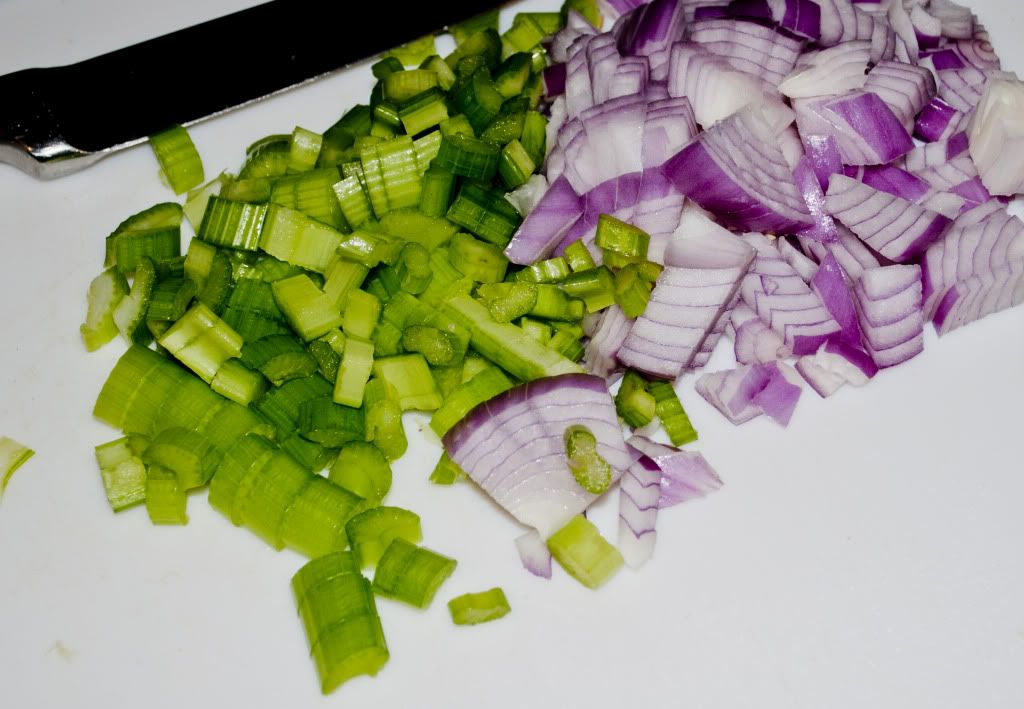 In a large pan, melt the butter and add the onions and peppers, as well as the oregano, sage, thyme, rosemary, garlic salt, and poultry seasoning; sauté until the onions become translucent.  The spices go in with the aromatics (onions) so the flavor and aroma are released.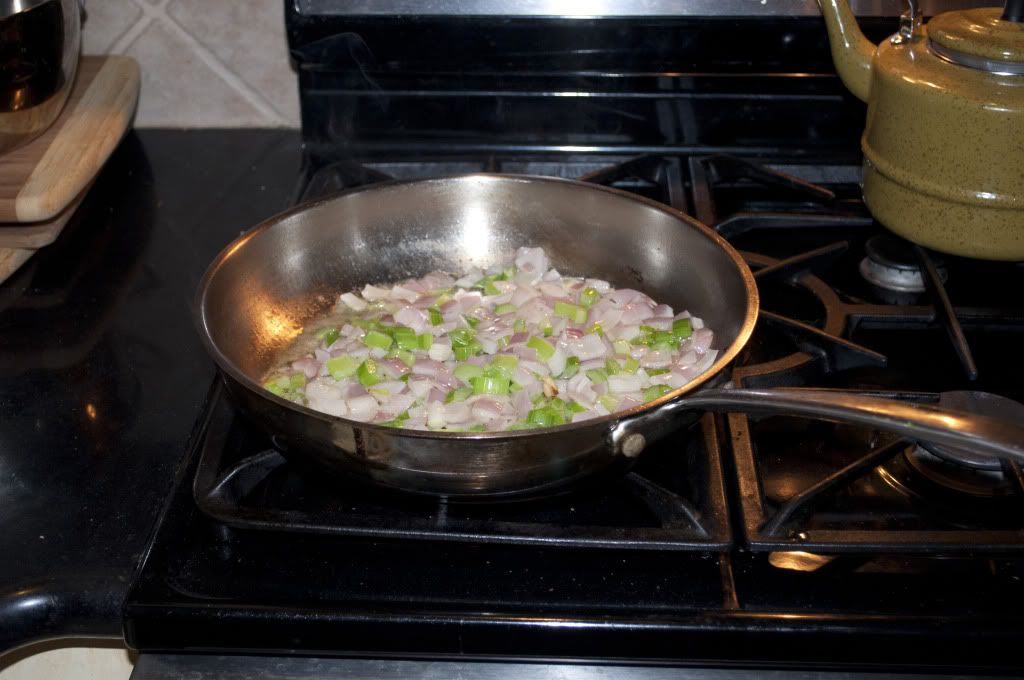 Once the onions are translucent, add the walnuts, apples, and cranberries.  Cook for two – three minutes, and then remove from heat.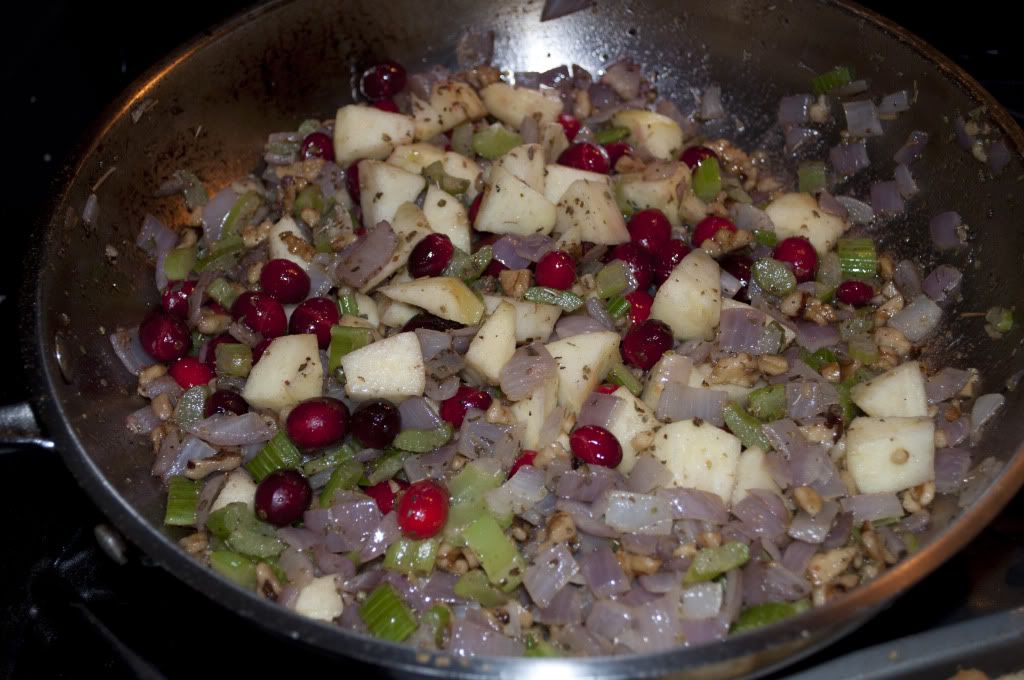 Your croutons should be done, so place those in a baking dish that you'll use for the dressing.
If you're stuffing a bird, place in a large mixing bowl.  Add the onion mixture.  Pour in 1/3 cup of chicken stock and mix well.  Here's where your personal taste is going to come in to play a little.  If you prefer a wetter dressing, add another  ¼  cup of stock.  Look at the dressing before you cook (or stuff it) and make sure you like the consistency.
If it looks good for you, cover it with aluminum foil and cook for 30 minutes. After 30 minutes, remove foil and cook for an additional 15 minutes to brown.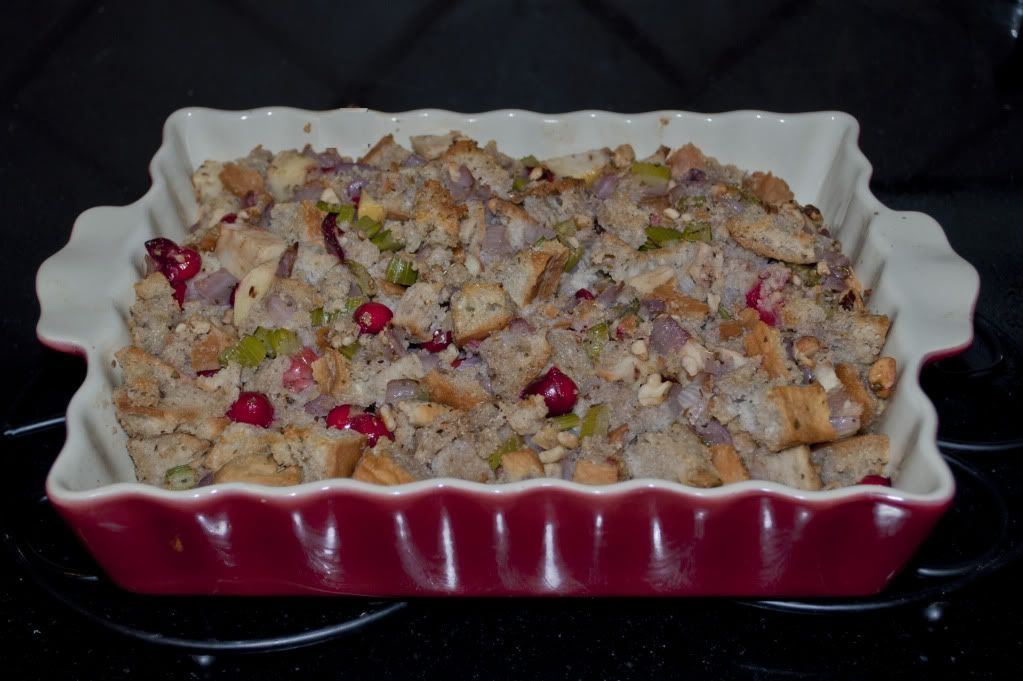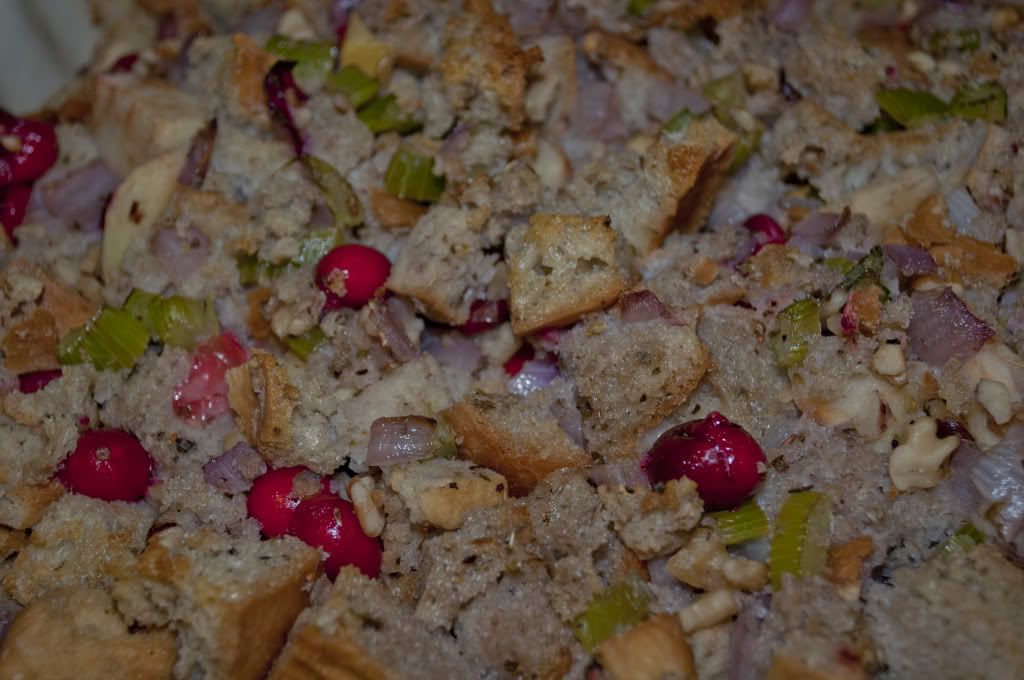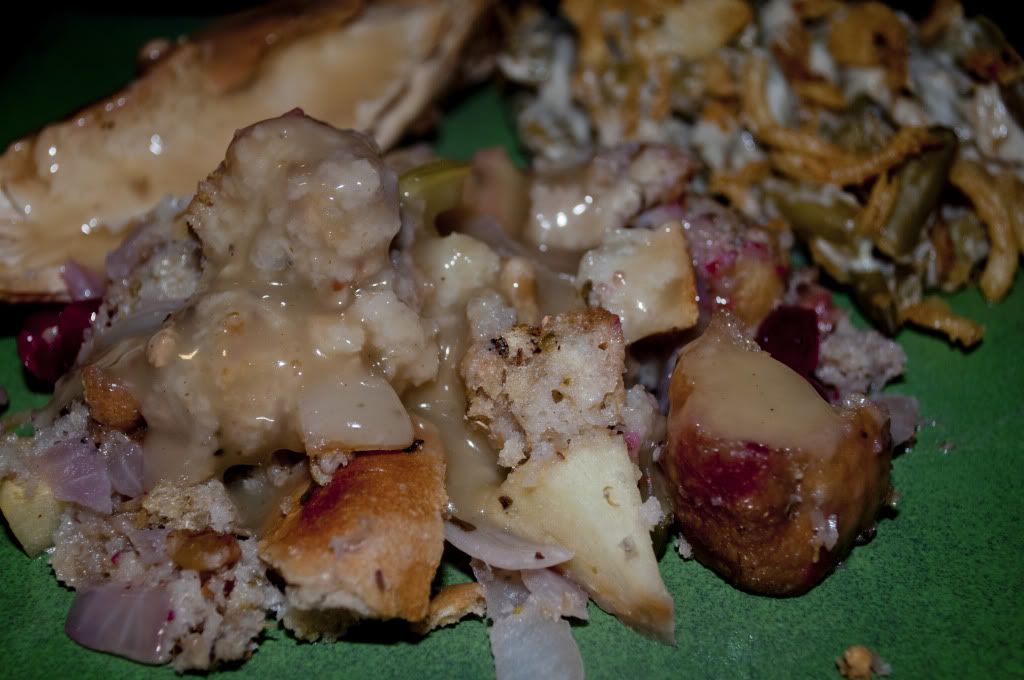 There you have it, a great homemade from scratch dressing to really wow all of your holiday guests.  Happy Holidays!