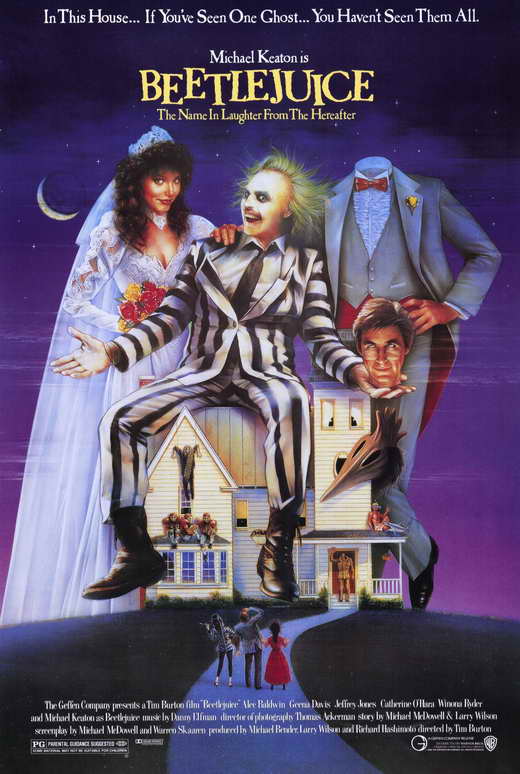 Image via IMDB
With Halloween getting nearer, I was in the mood for a spookier "Media Muse" this time around.  But not too spooky.  Beetlejuice was always one of my favorite movies as a kid, and I think it might have had something to do with the great house it took place in (they say your career preferences start early, right?!?).  During the movie, you see the house go from this (while Alec Baldwin and Geena Davis are alive):
Image via Hooked on Houses
(great site for movie + design fanatics!)
To this:
And I had forgotten the deck!  So horribly fantastic!
As I took a trip down memory lane (I'm on a serious mission to find time to watch this whole movie again soon!), I couldn't get this dinner party out of my head.  What a great non-pumpkin-ey way to celebrate Halloween.  Enjoy!
 All images via Hooked on Houses
1. Black Random Light, YLiving; 2. SOFIA fabric, IKEA; 3. A Ghastlie Angle in Smoke by Alexander Henry, Owl & Drum; 4. Sweep Dinnerware, CB2; 5.Villeroy & Boch Crystal – Cascara, myTableware.com ;6. POTT Anello Amuse Bouche Set, AllModern; 7. Oenophilia Marble Cheese Board, Amazon.com; 8. Alessi Zlin Flatware set, Alessi; 9. Bone Pillar Holders, Pottery Barn; 10. Ripple Dining Table, Hawley Design Furnishings; 11. Global Furniture BLU Dining Chair, Amazon.com